IP PBX Hotel/Motel Industry Typical Solution
With strong competition in Hotel/Motel Industry, the high efficiency integration of telecommunication and information management system is the key of success.  More friendly and differentiate telecommunication function application can provide advanced feature for customers. The advanced feature can be provided such as multimedia information service(voice, data, video), information inquiry, entertainment and son on.
For example, a big hotel need for central management of all telephone in each room. They want to rebuild the telephone system to offer real time service for each tourist in rooms. And they also want to provide senior function such as customized IVR voice, attendant desk, call conference, voice mail, and facsimile mail and so on. The solution should convenience for staff communicating with tourist/customers (Tourist contact with Tourist) in each room by providing efficiency, advanced feature and customized service. So that make the hotel lead in strong competition.    
Diagram And Topology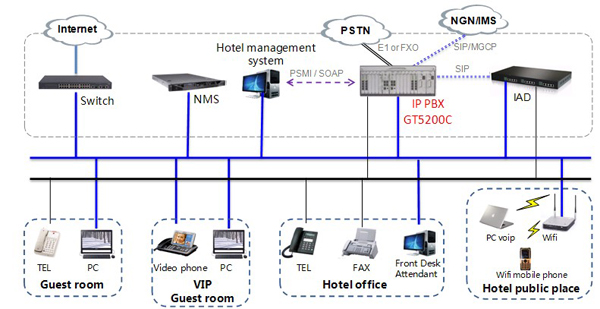 Feature of solution
A). Establish centralize telecommunication system in hotel including administration and room service access.
B). Provide standard PSMI or SOAP interface to hotel room management system.
C). Provide senior function telephone base on IP software application for switchboard and reception.
D). Provide mobile voice solution for hotel staff and senior guest.
E). Integration communication function: electronic facsimile, voice information, call conference, video conference and so on.
F). Billing counting, realize central billing and maintained
G). Hotel service center, provide guest service, booking hotline and other functions.